Dowel Jones
Melbourne, AU
Dowel Jones was founded by Adam Lynch and Dale Hardiman in 2014 after graduating from university together. Over the past 8 years, founders Adam Lynch and Dale Hardiman have grown the company from a small furniture studio helping to furnish local cafes, to producing furniture, lighting and accessories now found in homes and interiors all across the world.
In the past 9 years, Dowel Jones have won numerous awards for pieces both nationally and internationally. Although Dowel Jones appear to be a furniture and lighting company, we also work on self-initiated pieces that explore concepts further in depth (such as a tattooed cabinet called Venena Arca and National Gallery of Victoria acquired bench Never Grow Up), and also regularly organise events to support the local community of designers in Australia. 
Dowel Jones work with a large network of Australian and international manufacturers to produce products of as high quality as possible. Where possible, Dowel Jones produce within Australia in local areas to our factory in Geelong: our steel fabrication and upholstery is in Melbourne, and our timber factory and powder coating takes place around the corner from our Geelong factory.
alt.material exhibitions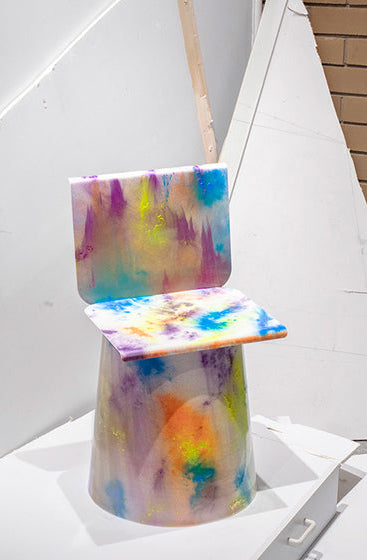 Fun House Mirror by Dowel Jones